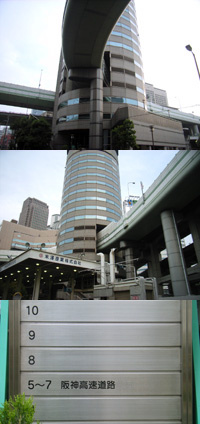 This is an incredible building. look at these pictures.
There is a highway inside the building. As it sounds, so many cars pass through this building!!
It was made just for SF movies.....maybe no. I'm sure this building is reall awesome if u make a racing movie or something.
Well, I guess there were not so many spaces to build since Osaka has had loads of buildings or the architecture were creative. Also, there is a heliport at roof top. damn!!!
I might have to ask Mr. Yano why it was build.
It's located here. I have not checked it yet but I'll definitely go take a look soon.
http://maps.google.co.jp/maps?q=%E3%82%B2%E3%83%BC%E3%83%88%E3%82%BF%E3%83%AF%E3%83%BC%E3%83%93%E3%83%AB%20%E5%A4%A7%E9%98%AA%E3%80%80&oe=utf-8&rls=org.mozilla:ja:official&hl=ja&client=firefox-a&um=1&ie=UTF-8&sa=N&tab=wl