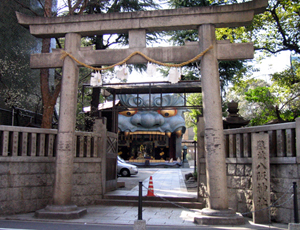 It's just 5 mins walk form Namba station
If you enter through the east gate, you can see this big dog-ish.
This is not a dog. it's a traditional "animal"
If you go there by train
go out side through exit 32 at Subway Yotsuyabashi.
then head to South for Motomachi 2:intersection.
after you hit the intersection, cross the street. walk until you hit Motomachi North3.
You have to make sure you are on the Midousuji street.
Then if you walk to west, you can find this weird shrine.
People go downtown for fun like eat, drink and party but this sight thing might be fun as well.
Osaka has a weird shrine, but this is really epic..no?